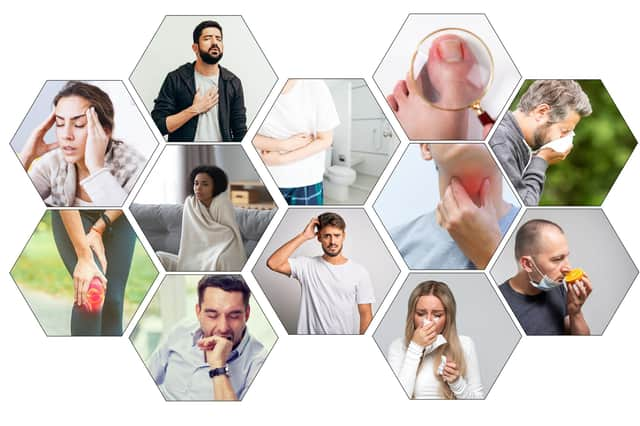 13 common Covid symptoms not included on the official NHS list
Since the Covid-19 pandemic broke out more than a year ago, researchers have gained a better understanding of the disease.
The virus is spread through close contact with people who have been infected and can be passed on even if individuals are not displaying any symptoms.
It is easily transmitted in small droplets that are released when a person breathes, speaks, coughs or sneezes, with the risk of contracting the virus being higher when indoors or in crowded places.
While some can be asymptomatic, making the virus difficult to detect, most people will feel unwell if they catch Covid-19.
The NHS lists three key warning signs of coronavirus, including a high temperature, a new continuous cough and a loss or change to your sense of smell or taste.
However, the symptoms of coronavirus are not just limited to these three symptoms, with people reporting a much wider array of side effects from the disease.
The ZOE Covid Symptom Study App has found that the most common Covid-19 symptoms are no longer the official three listed by the NHS, with people reporting signs that are similar to a cold or flu more and more frequently.
Professor Tim Spector, lead scientist on the app, said: "For 521 days, ZOE and King's College London have demanded cold and flu-like symptoms be recognised as common Covid -19 symptoms and communicated widely as in other countries.
"With UK rates the highest in Europe, if the government continues with no restrictions, surely we should at least help people to recognise the symptoms early and know when to stay at home."
Listed are some of the most common symptoms that have been linked to a Covid-19 infection, which differ to the three main signs. If you feel unwell and suspect you may have coronavirus, you should self-isolate and take a lateral flow or PCR test as soon as possible.